Three Time Top 100 Billboard Recording Artist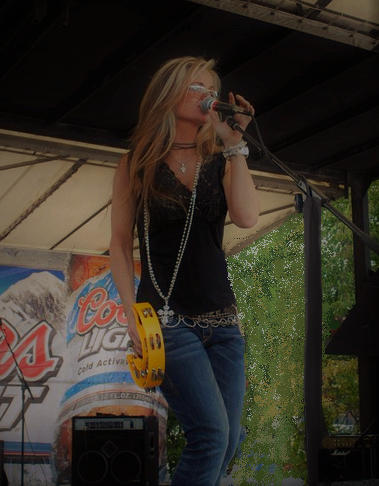 THREE TIME TOP 100 BILLBOARD RECORDING ARTIST, Leah Marr
This Native Texan, Singer/Songwriter started singing at age 3 and recording in the studio by the time she was 9 years old. Leah Marr spent her teens recording radio commercials and performing for local icons such as: Mary Kay Ash, Tom Landry - Dallas Cowboys, Ken Hatfield - Arkansas Razorbacks, while making televised appearances performing on WFAA's, Mr. Peppermint show's Easter Special that aired from 1984 to1995.
At 14, Leah signed with MGM/Curb independent label Oak Records. At sixteen, Leah began her promotion tour of what would be the beginning of her debut on the Top 100 Billboard Charts: "Sealed with a Kiss," followed by "Half Heaven-Half Heartache" and "I've Been a fool"  in 1989.   
After debuting 3 singles on Billboard's Top 100 HOT Country Charts. Leah's vocals were used in several soundtrack recordings for Paramount Pictures and publishing company, Famous Music and Lorimar Telepictures. By 1999 Leah had embraced her ability as a songwriter and joined forces with Andy Timmons & Lisa Boudreaux to produce one of the most anticipated debut rock albums from a female vocalist in the South. Her compelling work has a Southern Rock edge that produces powerful soulful vocals across fantastic instrumental arrangements and heart pounding beats. Leah compiled her debut album and began her "Truth" Tour in summer of 2009 with Cd release party held at House of Blues Dallas. As a headline act, Leah Marr has performed for the following venues, including private and corporate events .    
SXSW, Hard Rock Café, House of Blues, Winstar Casino, Irving Convention Center, Oak Point Amphitheatre, Six Flags Over Texas, Texas Beer Festival, Wildflower Festival, Plano Balloon Festival, State Fair of Texas, Grape Fest, Salt Lick Austin, Gilley's Pasadena, Thread Gills, Gators, Bakers Street Pub, Memphis, Lakewood Theatre, Firewater, Martini Park, Grotto Downtown McKinney, Sambuca 360, SAMBUCA UPTOWN, Sambuca Houston, Lanigan's, Sherlock's & Bakers Street Pub in Dallas, Addison & Arlington. Lakewood Theatre, The Prophet Bar, Curtain Club, The Door, Lizard Lounge, Club Mokah, Six Flags over Texas, Texas Motor Speedway -Speed Zone for Race week, Billy Bob's, Lonestar Park Horse Races many private and corporate events.